35 Rosewarne Ave., Cheltenham, 3192
Victoria, Australia.
Tel: +61 3 9584 2386 Fax: +61 3 9583 1854
email: talking@tpg.com.au

Established 1985 - over 200,000 kits sold!
Talking Electronics has the largest educational on-line website.
---
Micro Bug (FM transmitter)
See Micro Bug project.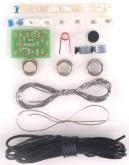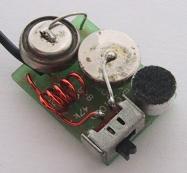 This is our smallest bug. It is fully surface-mount and all the components are fitted on the underside of the board.
You can also get a Battery Box to hold 3 button cells.

Complete kit, including PCB, batteries and fine solder:
au$14.50 plus au$3.50 pack and post
us$11.50 plus us$3.50 pack and air post

Battery Box: us$2.00
Battery Box, cells and switch us$5.00
Please send:
Micro Bug kit @ $11.50 Prices: us$
Battery Box @ $2.00
Battery Box and all parts @ $5.00

Name:
Address:
Address:
Address:
State:
Country:
Zip / Post Code:
Home Phone No:
Credit card number:
Type of credit card:
Expiry:
Amount to debit: $ plus postage




email: Talking Electronics