35 Rosewarne Ave., Cheltenham, 3192
Victoria, Australia.
Tel: +61 3 9584 2386 Fax: +61 3 9583 1854
email: talking@tpg.com.au

Established 1985 - over 200,000 kits sold!
Talking Electronics has the largest educational on-line website.
---
PIC LAB-1
See PIC LAB-1 project.
| | | |
| --- | --- | --- |
| | | All input devices are included in the kit |
This project has more than 25 experiments to teach
programming the PIC16F84 microcontroller.
It shows how to connect a coil, switch, microphone, photo-transistor, potentiometer and other inputs to the micro. It has a 7-segment display as well as 8 LEDs on the output and is ideal for a Science Quest Project. The PC board is very compact and all components (including fine solder and PIC chip) are included. ( It needs the Multi Chip Programmer to "burn" .hex files into the chip.)
Kit complete:
au$49.90 plus au$4.40 pack and post
us$38.50 plus us$5.50 pack and air post (maximum)
or PC board only:
au$10.60 plus $2.20 pack and post
us$10.00 posted

Multi-Chip Programmer
See Multi-Chip Programmer project.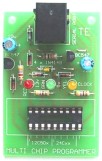 This project will program a number of different PIC microcontroller chips, including the two chips used in the PIC PROGRAMMING COURSE - the PIC16F84 and PIC12C508A. The kit comes complete with all components, fine (0.71mm) solder and PC board.
You will need a serial cable to connect the Programmer to the serial port of your computer. The software for the project is on the website.
Kit complete (no serial cable):
au $10.20 plus $2.20 pack and post
us$7.85 plus $5.50 pack and air post (maximum )
or PC board only:
au $3.65 plus $2.20 pack and post
us$3.00 plus $2.00 pack and air post
Serial Cable:
au$5.30 plus $2.20 pack and post
us$4.10 plus $5.50 pack and air post (maximum)
(only 1 pack and post is charged per order)

Please send:
PIC LAB-1 Project $38.50
Multi-Chip Programmer Project $7.85
Serial Cable $4.10

Name:
Address:
Address:
Address:
State:
Country:
Zip / Post Code:
Home Phone No:
Credit card number:
Type of credit card:
Expiry:
Amount to debit: $ plus postage




email: Talking Electronics